EA's FIFA series is probably the next best thing out there after the original game. Sure, there's a Konami-made PES releasing each year, but it still has some way to go before it can boast the sort of cult status that the FIFA series from EA has attained over time.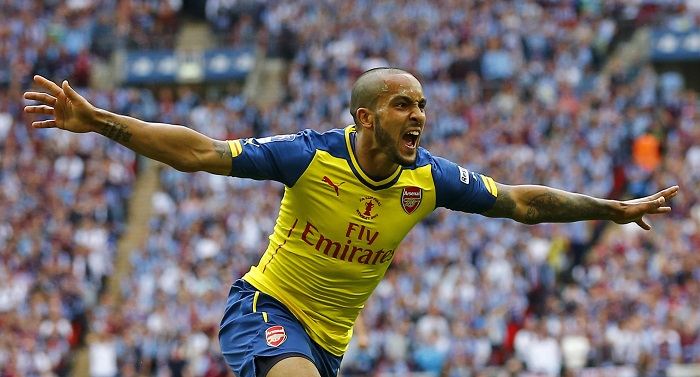 While the game is all set to make its way to the store shelves later this year, we are still waiting to find out how each player in every team will be rated. As expected, ratings will differ from what it was last year, with new additions to the roster after making successful plunges into the transfer market.
This week, we are predicting the rating each Arsenal player will carry in the game. Looking to end the trophy drought, in 2014 and 15, the Gunners went on to lift back-to-back FA cups, defeating Hull City and Aston Villa respectively, so some major tweaks to the players' overall are expected.
Here we take a look at how each Arsenal player could be rated in the upcoming FIFA 16:
FIFA 16 – Arsenal Player Ratings Predicted
Damian Martinez – GK – Predicted Rating: 67 – Argentinian keeper Martinez made a number of appearances last season when he was called upon to marshal the poles. Martinez even has a couple of Champions League appearances under his belt.
Yaya Sanogo – Striker – Predicted Rating: 72 – French starlet Sanogo has been rumoured to make a loan exit from Emirates this year, and head to Ajax. He did well on his loan spell at Crystal Palace, but it remains to be seen if he's still part of Wenger's plans.
Gedion Zelalem – Midfielder – Predicted Rating: 65 – Young Zelalem was recently hailed by Wenger after the player decided to ply his international trade with the US. As of now, Arsenal fans are waiting to find out more about his talents, although he might still be sent out on loan. This one is for the future.
Serge Gnabry – Winger – Predicted Rating: 70 – Gnabry has been with Arsenal for years now, and still fans will need to wait a bit more before finding more about the young German. Given the fact that he struggled with a number of injuries last year, we feel the player's rating will remain the same as FIFA 15.
Joel Campbell – Forward/Winger – Predicted Rating: 74 – Costa Rican Campbell has displayed his talent on a number of occasions, including scoring a goal against Manchester United in the Champions League in 2014, and enjoying a great season with Olympiakos. However, he still hasn't convinced Wenger to gain entry into the first team and could probably be heading to Turkey on a permanent deal.
Calum Chambers – Defender – Predicted Rating: 72 – The young English defender is still waiting to shine the way he was supposed to when he moved from Southampton last summer. But this season, he might finally get his chance to sparkle on the field, provided he can get past the likes of Hector Bellerin and Mathieu Debuchy.
Carl Jenkinson – Right Back – Predicted Rating: 72 – Jenko is another player in the Arsenal ranks who is probably set to exit the club. The Englishman did well in his season loan spell at West Ham, but may not have enough in the locker to challenge the likes of Nacho Monreal and Kieran Gibbs. It's likely that the player will make his loan spell a permanent one with West Ham before the transfer window shuts for the summer.
Wellington Silva – Winger – Predicted Rating: 75 – After finally getting a work permit to play in England, the young Brazilian is finally ready to feature for Arsenal, although he could be sold. That being said, the likes of Malaga and Sevilla are still looking to bring him back to Spain for the La Liga, where he has already excelled.
Hector Bellerin – Right Back – Predicted Rating: 75 – Expect a drastic boost to Hector's FIFA 16 ratings after the 20-year-old enjoyed a sort of breakthrough season with the Gunners, even scoring impressive goals against Aston Villa and Liverpool in the league. This guy is quick (stats show he's quicker than Theo), and seems to have a bright future.
Nacho Monreal – Left Back – Predicted Rating: 78 – Nacho Monreal has sort of made the Left Back position his own, keeping Kieran Gibbs out of the team for the entire last season. The 29-year-old Spaniard became a darling of the Gooners, when he scored the opener against Manchester United in the FA Cup.
Mikel Arteta – Midfielder – Predicted Rating: 79 – Gunners' captain may be a leader of men, but he's also fallen out of favour in the Gunners' first team. While a number of fans want him out to facilitate place for a new signing, it seems like the Spaniard has already signed a contract extension.
Francis Coquelin – Defensive Midfielder – Predicted Rating: 79 – The emergence of "Le Coq" has been purely an accidental one, rather than a planned strategy. Thankfully, the Frenchman has grasped the opportunity and is literally showing aspects of the great Patrick Viera from yesteryear. Now, that's what we call a turnaround!
Gabrial Paulista – Centre Back – Predicted Rating: 77 – First and foremost, Gabriel has to learn the English language if he wants to stand a chance of getting into the first team. But if set into motion, cHE ould easily dethrone 'BFG' Per Mertesacker.
Kieran Gibbs – Left Back – Predicted Rating: 80 – Maybe the Englishman will go up a couple of notches in the overall rating, as compared to last year, but he still needs to show that he's good enough to be a Gunners regular.
Per Mertesacker – Centre Back – Predicted Rating: 81 – With Gabriel breathing down his neck, the big German will look to shine to keep his place in the team. He has been subjected to a number of criticisms (mostly for his speed), but has managed to keep his own in Wenger's team.
Mathieu Debuchy – Right Back – Predicted Rating: 80 – Arsenal fans are frustrated with the number of injuries in the squad, and Debuchy is another example of that. Limited to just 15 appearances last season, he'll hope to fight for his right to play this year.
Laurent Koscielny – Centre Back – Predicted Rating: 84 – If Per Mertesacker is marshalling the back for the Gunners, he will do his best when combined with Frechman Laurent Koscielny. Kos is probably Arsenal's best defender as of now, and shows it off with a sense of responsibility.
David Ospina – GK – Predicted Rating: 80 – Even though the Colombian arrived in London only last summer, he might be forced out, thanks to the massive arrival of Petr Cech. He shows more composure between the sticks, but could be heading to Turkey.
Petr Cech – GK – Predicted Rating: 85 – The world class goalkeeper that Arsenal was looking for so long has arrived in the form of Petr Cech from Chelsea. The man may be somewhat old, but his goalkeeping standards do not exhibit any flaws. The Czech Republic international will wear the No. 33 jersey.
Danny Welbeck – Forward – Predicted Rating: 79 – The Manchester United reject signed with the Gunners last summer, but still finds a battle to contend against Olivier Giroud. Scored that all important goal against Manchester United in the FA Cup.
Wojciech Szczesny – GK – Predicted Rating: 80 – The lad lost it after he was caught smoking in the dressing room after the New Year's Day Southampton game, but the Pole is expected to stay with the Gunners as home-grown player.
Alex Oxlade-Chamberlain – Winger/CM – Predicted Rating: 81 – The Ox is the future of Arsenal, and although the young Englishman has been frustrated by injuries and lack of playtime, expect huge things from him in the coming season.
Tomas Rosicky – Attacking Midfielder – Predicted Rating: 80 – Irrespective of which team you support, you can't help but fall in love with the "Little Mozart". His age and a career disrupted by injuries has seen him fall out of favour (not among the fans, though), and the Czech could leave to rejoin his former club Sparta Prague.
Theo Walcott – Forward/Winger – Predicted Rating: 83 – Theo's injury problems have been over the roof, missing the World Cup two times, but when given a chance, the Englishman has shown that he can light up any occasion. He scored that wonderful opening goal against Villa in the FA cup final.
Olivier Giroud – Striker – Predicted Rating: 81 – Thierry Henry may be of the opinion that the Frenchman still isn't enough to win Arsenal the league, but that hasn't stopped Giroud from showing his class. He scored seven goals in six consecutive matches in the league last season and is expected to make it big this season.
Jack Wilshere – Midfielder – Predicted Rating: 83 – Jack is one for the future, a potential future captain material, for both Arsenal and England. However, the injury-prone player scored a belter against West Brom and is expected to feature majorly in Wenger's plans.
Mathieu Flamini – Midfielder – Predicted Rating: 75 – Flamini will probably leave before the start of the new season to make way for new talent. Flamini is known to form quite the friendship with Mesut Ozil in the team.
Aaron Ramsey – Midfielder – Predicted Rating: 85 – The Welshman may not have enjoyed a season like the previous one, but he still remains an important figure in Wenger's plans for an effective midfield deployment. Rambo is mature and is one of the best in the league.
Santi Cazorla – Midfielder – Predicted Rating: 86 – Ranked as the tenth-best footballer in the world by Bloomberg in 2013, the Spaniard oozes class every time he's on the ball. Santi is quite able with both his feet, and was one of Arsenal's best players last term.
Alexis Sanchez – Forward/Winger – Predicted Rating: 88 – Top of the charts and rightfully so, the exciting Chilean has adapted well to the life in the Premier League. He was exceptional in his debut season with the Gunners, arriving from Barcelona, and has already been compared to King Henry. Plus, he likes scoring goals at Wembley.
Mesut Ozil – Attacking Midfielder – Predicted Rating: 86 – Although the German is yet to justify his eye-watering £42m price tag, the player has shown flashes of brilliance throughout the season. Ozil spent a lot of time bulking up in the gym after he was criticised, and is the man who pulls the strings in the Gunners midfield.